I met Peter S. Beagle yesterday. He was doing a book signing at Sherwood Forest Faire outside of Austin. The setting was perfect for getting a chance to really talk to him, since it went on through the day, as opposed to the signings that funnel you through a fast-paced line and give you all of thirty seconds to talk to the author. Not only did I get to meet him, I talked to him at length. Or rather, I listened to him at length, which is even better.
I saw a number of other people interact with him as well. Some of them really wanted to tell him things, like about how much they loved his books, or the movie The Last Unicorn. And he seemed just as happy to hear their stories as they were to tell them.
When we arrived, my husband and I did something that's usually taboo at book signings: we brought a book we already owned with us, hoping to get it signed. It wasn't even a book Beagle had written. It was a first edition of The Tolkien Reader, for which Beagle wrote the foreword. I was fully prepared for him refuse to sign it, but as soon as he saw it, he launched into a story about Ian Ballentine staying at his house and how the foreword came to be a part of the book. He then asked if we wanted him to sign it. And all this before we even picked up any of the books for sale. If you've ever been to a big signing, you know how unusual all that is.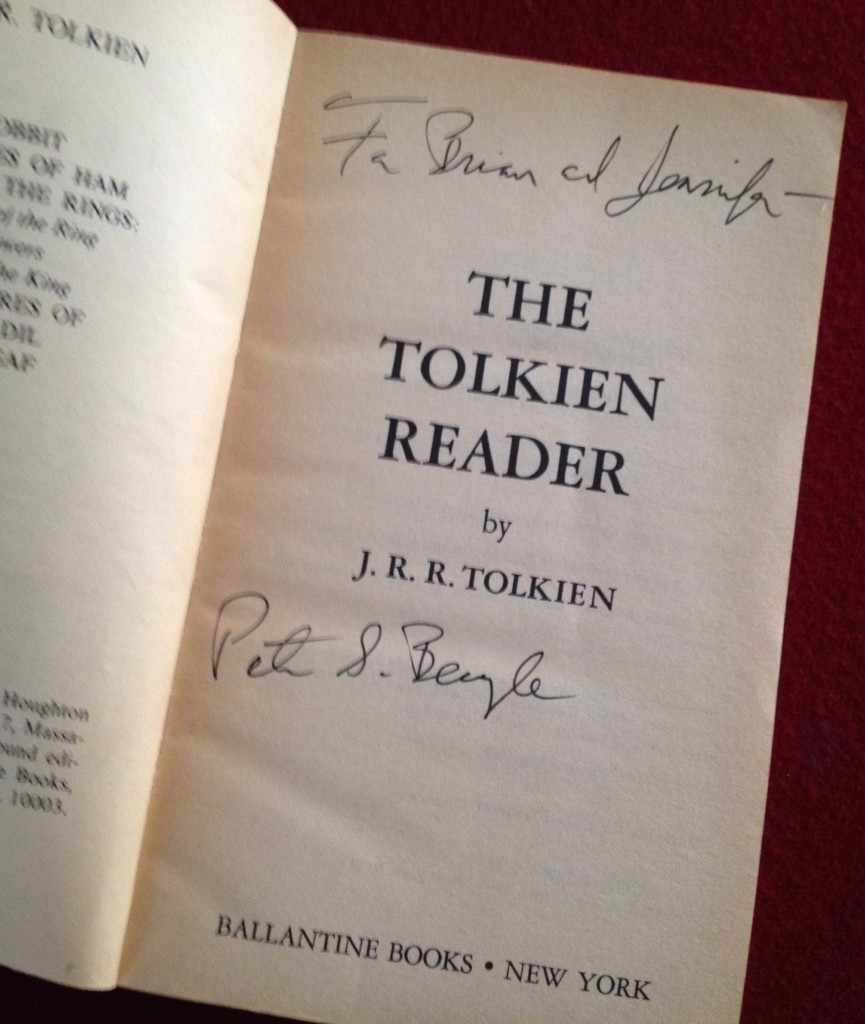 But it gets better. As we started going through other books, he kept on talking, telling more bits of stories. Eventually, people started queuing up, and we thanked him for his time and left. Through the day, I noticed that at times that the line at his table was substantial.
Late in the afternoon, we walked past again, and at that moment, there was no one by the table. We walked back up, thinking to thank him again before leaving. But he didn't let us go that easily. He started telling us more stories. One was about the love of his life who passed away two years ago (part of the story was so romantic I had to struggle back tears, but it's not my story to tell, so I won't repeat it here). At some point, I had a dizzying thought about how amazing this moment was. We were standing with the legendary Peter S. Beagle, and he was telling us stories about his life as if there was nothing on earth he'd rather be doing.
By the end, after some discussion about his coming appearances (in Canada, which for logistical reasons I won't be able to attend), he told us, "We'll see each other again." And he said it with such certainly that I absolutely believe we will.
Authors are natural storytellers, and that often means that they enjoy talking. Being a good listener, in some fashion at least, is also a requirement. Naturally, there were things I wanted to tell Peter S. Beagle, just as others there did. After all, I'm about to start querying my first book, and making connections in the publishing industry is very important to me right now. But sometimes, you need to recognize the point at which you should shut the hell up and listen. Especially in a case like this. The more we listened, the more he talked. And I got far more out of the entire experience for that than if I had tried to turn it into something else.
If you get the chance to meet Peter S. Beagle, I highly recommend it. And if you demonstrate a willingness to listen, you might get a lot out of the encounter. Try to listen at least as much, if not more, than you talk. And then try carrying that forward into other parts of your life. You learn more that way.